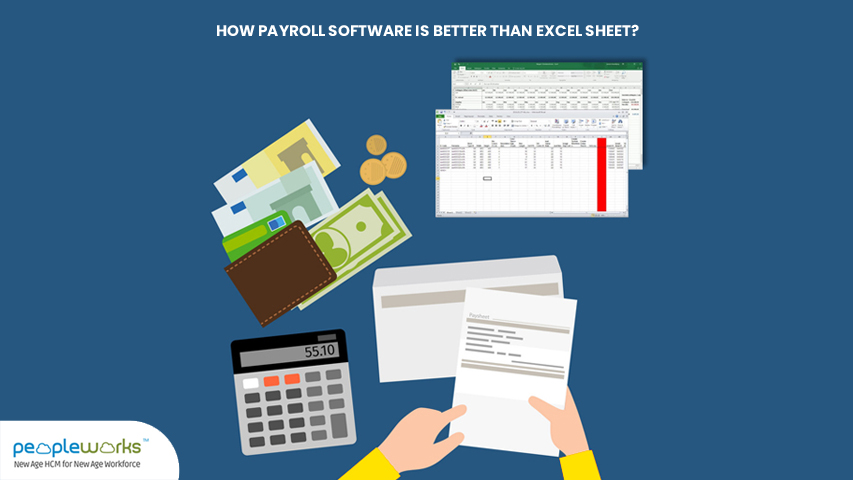 Payroll management is one of the most crucial and critical functions of any company. Well equipped payroll management software will relieve your HR Department from several tedious works, and further refrain from making any mistakes. The use of payroll software over an excel spreadsheet or file has many advantages that will benefit both the HR and the respective companies.
Let's first discuss the challenges an HR department will have to face if they go with an excel spreadsheet format payroll process:
CENTRALIZED DATA SYSTEM
– The need to keep up various spreadsheets for singular purposes like salary structure will become compulsory, in addition to a master spreadsheet to populate the subject-specific sheets. If you want to get a consolidated view of all of your employees, you will have to model custom reports and congregate a tangled collection of individual charts.
TAX COMPLIANT DIFFICULTIES
– One of the big inadequacies of the spreadsheet is of not being self-regulated to be tax compliant. Everything from calculating your tax liabilities to preparing data for tax reports for monthly, quarterly, or annual returns filling must be done manually, and one slight mistake in that can cost the business immensely.
SECURITY RISKS
– You can hardly control the viewership of the data in spreadsheets, making it vulnerable to alterations of formulas, values, or dependencies without being detected. Along with no checks to test the reliability of data sources getting pulled into the spreadsheets.
LACK OF CONTROL AND ACCURACY
– When a data file is too large, it can make the Excel program run very slowly, especially if all the data is in one file. Trying to break the data down into smaller files can lead to some of it being lost or misplaced. Excel is not user-friendly, and the application rounds off very large numbers using imprecise calculations, which compromises accuracy.
HARD TO INTEGRATE
– Spreadsheets are subject to intermediary applications to run integrations. As you include more combinations, this can rapidly transform into a large problem. Abruptly your finance information needs to go through various spreadsheets and intermediary data sources just to be united for computing payroll.
By switching to a Payroll Software System that is easy to use will ensure strict compliance and result in the effective elimination of potential problems and risks.
Here are some key advantages to choosing the Payroll Management System:
1. Fast and efficient processing of payroll
2. Management of reimbursement, claims, and loans
3. Generate E-TDS and Form16 quickly
4. Easy way to view, access, and print payslips, IT Statement, YTD
5. The gratuity rule, like eligibility and exemption, can be defined.
6. Income Tax calculator feature
7. Set a few Configurations like PF Calculation Methods, ESI Max limit, LWF Applicable.
Further, we will be able to set Component Exemptions, Tax Adjustment, Year-End Proof, and IT Deduction.
8. Creation of Loan Scheduler /Mapping.
As a business owner or payroll manager, you have several options for your payroll functions.
But if you want to exploit the advantages accessible to you, outsourcing to a professional and experienced provider like PeopleWorks can still be the best decision. PeopleWorks is one of India's leading Payroll Software companies in Bengaluru, providing customized and innovative payroll management systems that can effortlessly and efficiently process employees' salaries.